Fjord Marine Shuttle
With the Fjord marine shuttle, travel from one shore to the other on the Saguenay Fjord to discover the villages that border it. Different circuits and stopovers are possible. Departures are offered every day in high season from Parc Aventures Cap Jaseux.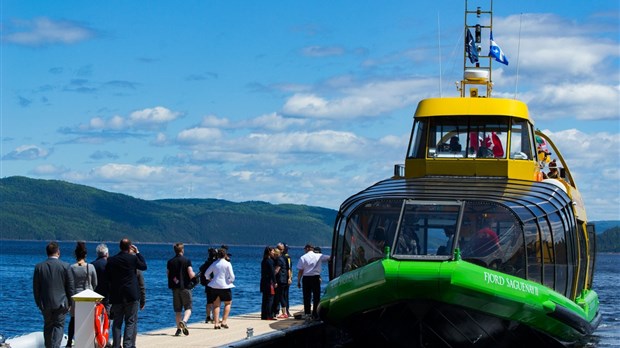 Parc national des Monts-Valin
From its height of 984 m, Parc national des Monts-Valin dominates the landscape of the Saguenay-Lac-Saint-Jean region. Its entrance is located just 20 kilometers from Parc Aventures Cap Jaseux and is accessible via rang St-Louis from the village of St-Fulgence. Hiking, canoeing, paddle boarding, fishing and other activities are offered there.
Parc national du Ford-du-Saguenay
What a grandiose place, where nature has deployed colossal forces to create a Fjord. So many things to see and do, winter and summer: Hiking, via ferrata, zodiac and discovery activities, etc.
It is possible to get to Parc national du Fjord-du-Saguenay (Baie Éternité sector) with the Fjord marine shuttle from Parc Aventures Cap Jaseux.
La Vieille Ferme
Located at 1 km from the Park, a stop at the Vieille Ferme will satisfy children, adults and the greediest. La Vieille Ferme invites you to discover its Little Market and its self-service counter in a warm atmosphere! Its succulent dishes are an excellent option for enjoying a good meal in the comfort of your dome, suspended sphere or tree house.
Le Chevrier du Nord
Three times warmer than wool, mohair steals the show at the economuseum. This material is used to make woven, felted or knitted clothing and accessories. Follow the manufacturing steps of these uniquely styled pieces. From the scarf to the hat through the coat, you will find something to keep you warm! This attraction is located in St-Fulgence and about 15 minutes by car from the Park.
Théâtre d'été la maison coupée en deux
Yes, it is truly a house, a house cut in two, converted into a summer theater where you are presented with the theatrical productions of author and director Jimmy Doucet. A guaranteed evening of laughter and entertainment!